Sports
Lindsey Vonn strikes back with Val d'Isere win
At 33, Vonn became the second oldest woman — after Elisabeth Goergl (33) — to win a World Cup race and closed the gap on the all-time record of victories.Follow @cnnsportShe trails record holder Ingemar Stenmark of Sweden by just eight World Cup wins.It was Vonn's first victory since a downhill in Garmish-Partenkirchen, Germany, in January. She last won a super-G in Cortina d'Ampezzo, Italy in January 2016.The American clocked one minute 4.86 seconds on a shortened course in Val d'Isere, with Italian Sofia Goggia second in 1:05.17 and Norwegian Ragnhild Mowinckel third in 1:05.25 for her first career podium.On the men's circuit in Val Gardena, Italy, Norway's Aksel Lund Svindal won his second downhill of the season following an earlier victory at Beaver Creek.READ: Vonn — My eyes have been opened to 'how divided we are'READ: I won't be representing US President at Winter Olympics, says VonnREAD: Lindsey Vonn injures back in St. Moritz race
'Exceptionally happy'
Vonn has begun this season slowly and crashed twice. She also injured her back during a labored super-G run in St. Moritz last weekend and pulled out of a second race at the Swiss resort to rehabilitate."I just had some bad luck and things weren't just lining up the first few races of the season," said Vonn, who began last season late after suffering a badly broken arm and nerve damage in a December 2016 training crash."But I knew that my skiing was there, I just had to execute on race day. I'm exceptionally happy with today and back on track. "My goal now is to continue to take this self-confidence and this momentum through to February."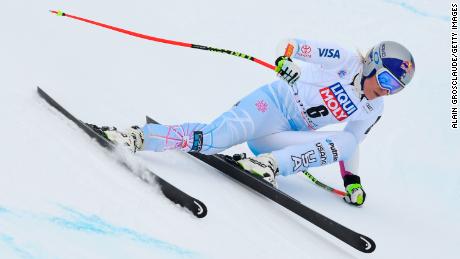 Vonn pulled out of Sunday's second super-G in Val d'Isere to rest her right knee, on which she wears a brace for skiing after previous injuries."Unfortunately I'm not racing today. Knee is a bit sore from yesterday so to be on the safe side I'm going to give my body some rest," she wrote on Twitter Sunday. "My focus is on the Olympics so no need to risk anything now. Still going home very happy after my win yesterday."Vonn is targeting a second Olympic gold medal and third in all at the Winter Olympics in South Korea. She missed out defending her Olympic downhill crown from Vancouver in 2010 when she was sidelined with a knee injury ahead of the Sochi 2014 Games.Austrian Anna Weith (nee Fenninger), the world and Olympic super-G champion, won Sunday's race for her first victory since March 2015 after rehabilitating from a serious knee injury. Tina Weirather of Liechstenstein was second and Goggia third.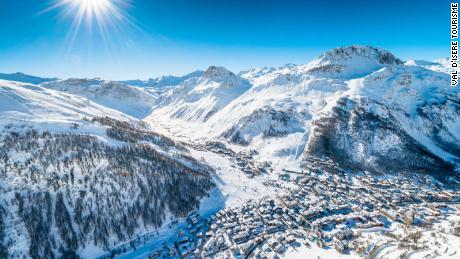 'Put aside our differences'
Ahead of the St. Moritz race weekend Vonn told CNN's Alpine Edge she would not be representing US President Donald Trump at the 2018 Winter Olympics and would refuse an invitation to the White House.READ: Val d'Isere – a mecca for ski bums and billionairesREAD: World's most extreme ski liftsHer comments were met with a strong response, some of them negative and wishing her ill."My recent comments opened up my eyes as to how divided we are right now," wrote Vonn in a lengthy Instagram post this week."It is hurtful to read comments where people are hoping I break my neck or that God is punishing me for being 'anti-Trump.'"We need to find a way to put aside our differences and find common ground in communicating. Is it wrong to hope for a better world?"
'Building confidence'
The 34-year-old Svindal beat close friend and compatriot Kjetil Jansrud by 0.59 seconds on the famous Saslong course for his 33rd World Cup win. Austria's Max Franz was third.Svindal, the 2010 Olympic downhill champion, missed all of last season with a knee injury and still has to limit how much skiing he does in training. He said he avoided going off the big jumps in training in Val Gardena because he knew the landings would hurt his knee, adding "race day is different." Visit CNN.com/skiing for more news, features and videos"I didn't feel good in the beginning of the week, I couldn't do much in the last 10 days, I'm building confidence every day," Svindal told reporters.Germany's Josef Ferstl scored his maiden World Cup win in Friday's super-G at Val Gardena, ahead of Franz and fellow Austrian Matthias Mayer, the Olympic downhill champion.On Sunday, Austria's Marcel Hirscher won his third race this season with victory in a giant slalom in Alta Badia, Italy.The record six-time overall World Cup champion held off Norway's Henrik Kristoffersen and Zan Kranjec from Slovenia.
The post Lindsey Vonn strikes back with Val d'Isere win appeared first on News Wire Now.