Food
Scotland fights back against the counterfeits in China
Scotch whisky's trademark has been renewed in China until 2028.
The Scotch whisky industry has renewed its trademark in the far east for another decade, to help in order to protect future growth of the industry.
Karen Betts, chief executive of industry body the Scotch Whisky Association (SWA), revealed the news when she accompanied Prime Minister Theresa May on a recent three-day trade visit to China.
The trademark 'Scotch Whisky' and its Chinese translation have been renewed until 2028, which will protect the brand from counterfeit products.
Karen Betts (Photo: Scotch Whisky Association)
The SWA first secured trademark protection for Scotch whisky in China in 2008. It has since dealt with 200 illicit products labelled as 'Scotch whisky' and fought more than 100 trademarks featuring Scottish words and images.
Karen said: 'While challenges remain, Scotch whisky producers can be confident that the Chinese government officially recognises Scotch whisky as a Scottish product, produced according to traditional methods, that should be given special recognition in the Chinese market.
'The industry has enjoyed great support from the Chinese authorities, who take food fraud and IP protection seriously, in tackling fake 'Scotch'. We're grateful too to the British Embassy, which has provided invaluable support.'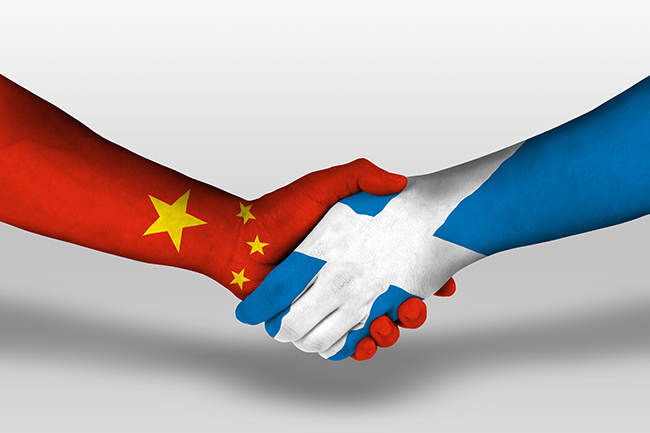 Whisky links between Scotland and China have been strengthened
Liam Fox, international trade secretary, who comes from East Kilbride, added: 'China is a key market for British goods and services with exports increasing by 25% over the last year to more than £59 billion and it is my ambition to ensure that the trade relationship between our two countries continues to grow.'
According to the SWA, 25 bottles of Scotch whisky are exported to China every minute. In the first half of 2017, exports of Scotch whisky to China increased by 25.9% to 6.8m bottles. In terms of value, exports to the market grew 45.3% to £22.9m.
READ MORE WHISKY NEWS FROM SCOTTISH FIELD BY CLICKING HERE.