Politics
Communists draft bill ordering 6 years in prison for election officials who allow violations
Russian Communist Party lawmakers have drafted a bill which would drastically increase the fines and prison sentences for members of election commissions who allow the falsification of election results.
A note was attached to the bill – published on Tuesday on the parliaments online database – which reads: "Repeated incidents in which members of election commissions have violated the existing election laws and regulations, personally participated in forging ballots and stuffing ballot boxes, now present a great danger to society because, like corrosion eats through metal, corruption destroys the citizens trust in the objectiveness of the election commissions during the casting and counting of votes in elections of state officials of various ranks and federal and regional legislatures."
Read more
In its current form, the bill increases from three to six years the maximum prison terms for heads of election commissions and their deputies who illegally hand out 10 or more ballots, allowing for violations of election laws. The punishment can also be applied to those who fill in and cast 10 or more ballots.
The bill would also increase the maximum fines for members of the election commission who personally participate in violations from the current 500,000 rubles to 1.5 million rubles (from $8,000 to $24,200).
In cases in which the abovementioned crimes are committed by groups of people who planned them, the punishment can be up to five years of correctional labor or a fine in the amount of the convicts income of up to five years.
Read more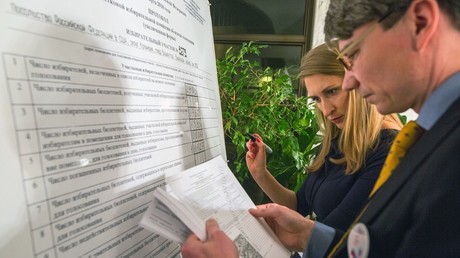 In late 2017, Russia introduced criminal responsibility for election fraud known as carousel voting – casting ballots by the same people at various ballot stations, often for bribes. The bill also orders punishment in the form of fines, correctional labor, and time in custody, but the amounts and terms mentioned in it are less than those proposed by the communists.
Russian opposition parties and various watchdogs often draw public attention to alleged violations during elections. However, official probes into the issue have found the violations that actually take place have been on a minor scale and could not affect the results.
After the latest Russian presidential election that took place in March, the head of the Russian Central Election Commission, Ella Pamfilova, told reporters that according to her information, the number of violations has been cut in half compared to previous elections. She attributed the success to the active work of election monitors, both from Russia and from other countries, and also to the fact that around 80 percent of the polling stations have been put under constant video surveillance.