Politics
Russia announces sanctions over Lithuanian memorials policy
Russia will introduce reciprocal restrictions on Lithuanian memorial projects as a reply to the Baltic nation's recent toughening of rules regulating Russian memorials, the Foreign Ministry has stated.
The announcement on Friday was issued shortly after mass media reported that Lithuania had frozen all restoration works at memorials to Soviet soldiers who liberated the country from the Nazis in times of the WWII as well as some attempts to dismantle some of the monuments.
Read more
The ministrys spokesperson Maria Zakharova emphasized that Moscow saw the counter-sanctions as a forced measure. "The obviously abnormal situation that has been created by the Lithuanian authorities leaves us no other choice but to introduce reciprocal sanctions against Lithuanian memorial projects in Russia," she said.
In particular, the Russian side has decided to deny entry visas to Lithuanian citizens participating in 'Mission Siberia' – a project by Lithuanian youth groups which lasts for 16 years and aims to immortalize the memory of Lithuanian victims of the Soviet-era political repressions who are buried on the territory of the Russian Federation.
"This measure will remain in force until the Lithuanian side gives us the real opportunity to resume the military-memorial activities. The reciprocity principle remains a defining factor in this case," the Russian embassy in Lithuania stated in a comment released on its website.
Read more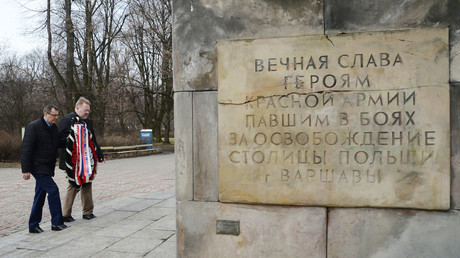 The Lithuanian embassy in Moscow replied with a statement in which diplomats described the Russian move as allegedly "biased and unfounded" and expressed hope that Russia would change its position concerning the Mission Siberia project.
In late 2017, the Lithuanian parliament passed the bill ordering that all monuments to the Soviet Army soldiers who liberated the country from the Nazis are equipped with special plaques, explaining that the words inscribed on the monuments allegedly "do not correspond with the reality." Back then, Russia described the move as "lowly."
"This is an unconditionally lowly step that insults the memory of 970 soldiers who died in 1944 as they freed the Lithuanian territory from the Nazi Germany invaders," the Russian embassy in Vilnius said in a statement.
Like this story? Share it with a friend!