Business
'US doesnt have fair trade deal with EU, they treat us horribly – Trump
Trading with the EU is unfair, according to US President Donald Trump, who warned the bloc would pay a high price if it does not remove trade barriers.
Read more
While talking to journalists at a joint press conference with UK Prime Minister Theresa May at her country residence in Chequers, Trump asked May to work out a Brexit plan in such way that the two countries could "have an even trade."
"We do not have a fair deal with the European Union on trade right now. They treat the United States horribly and thats going to change," Trump said, adding that "if it doesnt change they are going to pay a very big price. And they know what that price is."
Trump expressed hope that Washington and Brussels could work something out on July 25 when trade talks with European Commission President Jean-Claude Juncker are expected to occur.
"They [the EU – Ed.] have barriers that are beyond belief. Barriers where they won't to take our farm products, they won't to take many of our things, including our cars. They charge us tariffs on cars far greater than we charge them," he said.
Trump told May that last year, the US lost $151 billion in trade with the EU. "Were not going to have this any longer," he stressed.
Read more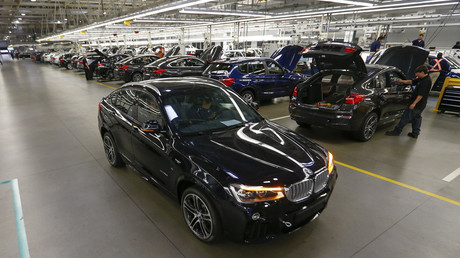 The US leader has recently threatened to hit imports of European cars with a 20-percent tariff if Brussels doesnt remove levies and other trade barriers on US goods.
He said the EU was "as bad" as China when it came to the way European countries traded with the US. Trump also dismissed suggestions that his attacks on the EU were counterproductive and that he should instead strengthen relations with European countries to tackle the Chinese trade issue together.
The EU warned the US of a new round of retaliatory tariffs on American goods worth as much as $300 billion, if Washington moves ahead with new duties on European cars.
At a summit in Brussels, EU leaders said that the bloc would respond to all US actions "of a clear protectionist agenda."
For more stories on economy & finance visit RT's business section