Politics
Kadyrov invites Palestinian leader Abbas to celebrate bicentenary of Chechen capital Grozny
Chechen leader Akhmad Kadyrov has invited the president of the Palestinian Authority, Mahmoud Abbas, to participate in festivities – to be held in Grozny in early October – marking the 200th anniversary of the citys founding.
Kadyrov personally announced the invitation in a post on Chechnyas own social network Mylistory. He wrote that he had charged the head of the Chechen branch of the Russian National Guard agency, Daniil Martynov, with the task of meeting Abbas in Moscow and passing on the invitation.
Read more
"Daniil Martynov has passed my invitation to celebrations of the Grozny foundation anniversary to Mahmoud Abbas and this invitation was accepted with gratitude," the Chechen leader wrote.
Kadyrov noted in his post that Martynov and Abbas had discussed the possibility of broader contacts between the Chechen Republic and the Palestinian Authority. "The Palestinian leader has sincerely thanked the Chechen authorities for their help and support in solving issues that are important for Palestine," he wrote. "Our relations with Palestine are strictly in line with the Russian federal authorities position concerning the Middle East settlement," Kadyrov added.
"Palestinian people are living through a difficult period of its history. It is a duty of every concerned person and politician to make everything possible to improve the lives of impoverished women, children and elderly person and to make peace in this region a closer thing to achieve," the Chechen leader wrote.
Read more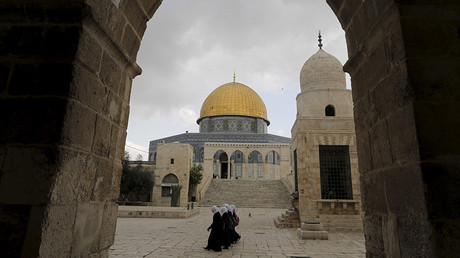 The city of Grozny was founded in 1818 by imperial general Aleksey Yermolov known for his role in defeating the Islamist insurgency in the Caucasus region. The name of the settlement was initially "Krepost Groznaya" or "Awe-Inspiring Fortress", but eventually it has transformed into a major city simply called Grozny.
Kadyrov is a devout Muslim and a long-time supporter of the Palestinian people and their cause. In late July 2017, after a wave of protests hit Jerusalem following the Israeli authorities decision to restrict access to the Temple Mount, Kadyrov announced that he was ready to resign and move to Jerusalem to serve in the security force that guards the Al-Aqsa mosque "for the rest of his life."
Kadyrov also described the effort of the Israeli security services as a tool in the political struggle aimed against Muslims and proposed to transfer all rights to the Temple Mount – home to the Al-Aqsa mosque and the Dome of the Rock – to Jordan as the king of this country bears the status of the custodian for Jerusalems holy sites.
If you like this story, share it with a friend!