Politics
Pussy Riot face charges of illegal use of uniforms after World Cup pitch invasion
A Moscow magistrate has charged four members of Pussy Riot with the illegal wearing of police uniforms after they stormed the pitch disguised as cops during the World Cup final.
The decision was made Friday by the magistrate in the Moscow district of Khamovniki, the location of the Luzhniki stadium where the France-Croatia showpiece took place on July 15. The match was briefly interrupted by four members of the Pussy Riot group – who later said their actions were designed to highlight the plight of alleged "political prisoners."
Read more
On July 16 the Khamovniki District Court ruled that the protesters were guilty of a civil offense called "violation of spectators right during a sports event" and placed them under civil arrest for 15 days. The court also banned the four Pussy Riot members from attending sports events on Russian territory for three years. Defense lawyers have promised to appeal this ruling.
In Russia, the illegal use of uniforms and insignia of state law enforcement agencies and paramilitary organizations is also a civil offense punishable by fines of up to 1500 roubles (about $24) and confiscation of the uniforms.
Three suspects will be tried on July 23 and one on July 25, a defense lawyer representing the group said in comments to Interfax. The Pussy Riot group gained worldwide notoriety in 2012 after three members of this self-styled "punk group" specializing in "actionist protest" were sentenced to two years in prison for "hooliganism motivated by religious hatred and enmity."
Read more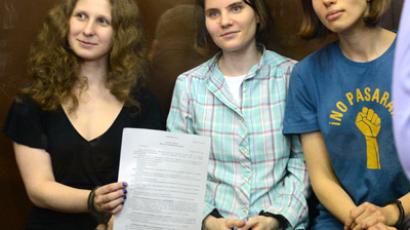 They had entered the main Moscow cathedral during a mass and performed the profanity-laden song Mother of God, drive Putin away at the altar. A few worshippers who witnessed the incident said that it had offended their religious sensibilities.
After the three protesters served their terms, Pussy Riot suffered internal issues and the group almost broke up, with some members leaving Russia for Western Europe. Of the four suspects in the recent pitch invasion, only Pyotr Verzilov had been mentioned in connection with the "punk prayer" case and other incidents.
Think your friends would be interested? Share this story!