Politics
Pro-Christian Russian MP threatens Facebook with boycott over pro-Nazi memorial page
A Russian lawmaker known for his staunch pro-Christian and anti-gay stance has urged other MPs to boycott Facebook over its refusal to block a page dedicated to a Latvian volunteer unit that fought with the Nazis in WWII.
"When the next parliamentary session begins, I will address all State Duma deputies, regardless of their party affiliation, with a proposal to boycott Facebook for personal use. Also, we must find some leverage with which we could influence this social network and prevent such incidents in the future," MP Vitaly Milonov told RIA Novosti on Friday.
"In case they persist in their actions, we would ban Facebook," the lawmaker added.
Read more
His comments came after Facebook administrators unfroze a page dedicated to the Latvian Legion – a Waffen-SS unit manned by Latvian citizens who fought on the Nazi side during World War II and allegedly participated in war crimes, although none were convicted. The Facebook page dedicated to the Latvian Waffen-SS Legion was created about three years ago and currently has around 3,000 subscribers.
Milonov said that he learned about these developments in letters from concerned citizens and religious groups.
"This American social network has not simply refused to delete the page dedicated to the heroic deeds of the Latvian Waffen-SS troops, but it also issued official apologies to its authors over the misunderstanding that had led to its temporary blocking," Milonov told RIA Novosti.
Read more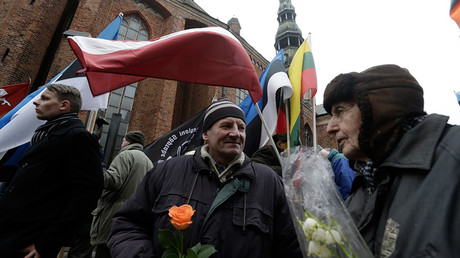 The Russian lawmaker said he believed that such actions should be considered "support for historical revisionism and sympathy with the Nazis."
Latvia honors the veterans of the Waffen-SS Legion as freedom fighters and annually holds a solemn event dedicated to their memory with a march through the streets of its capital city, Riga.
Russia has repeatedly denounced these events as attempts to rehabilitate Nazism and present Nazi criminals and their followers as heroes. In one of the more recent moves, the Russian lower house, the State Duma, approved an address to foreign parliaments and international organizations, calling on their colleagues to condemn the Latvian authorities for allowing Nazi veterans and their supporters to rally in Riga.
Like this story? Share it with a friend!