Health
Contaminated blood scandal: Inquiry 'must uncover truth'
Emotional testimonies from people infected with HIV and hepatitis have been heard at the start of the inquiry into the contaminated blood scandal.
The public inquiry is looking at how thousands of NHS patients were given infected blood products during the 1970s and 1980s in what has been dubbed the worst-ever NHS treatment disaster.
In a video played to the inquiry, one man described how he felt he lost his entire life after finding out at the age of 43 that he had been infected with hepatitis C when he was a child.
He was given an injection of blood products when he was eight for a swollen knee that was misdiagnosed as haemophilia.
"I lost everything. I lost my whole life the day I found out – everything ended," he explained.
With her identity hidden, one woman said she became infected with HIV through her husband who was a haemophiliac, and who had been given contaminated blood.
She said when they found out they were left stunned and devastated.
"This was the mid-1980s and the climate of fear, discrimination and stigma associated with HIV and Aids was horrendous," she added.
"We coped the best we could. We were silenced, and we kept quiet."
Another victim, a widow, whose husband John died of Aids in 1994 and who also had hepatitis C, said: "I feel we have been treated very badly. Nobody has listened to us over the years."
There have been previous inquiries into the scandal, but this is the first UK-wide public inquiry that can compel witnesses to testify.
It comes after decades of campaigning by victims, who claim the risks were never explained and the scandal was subsequently covered up.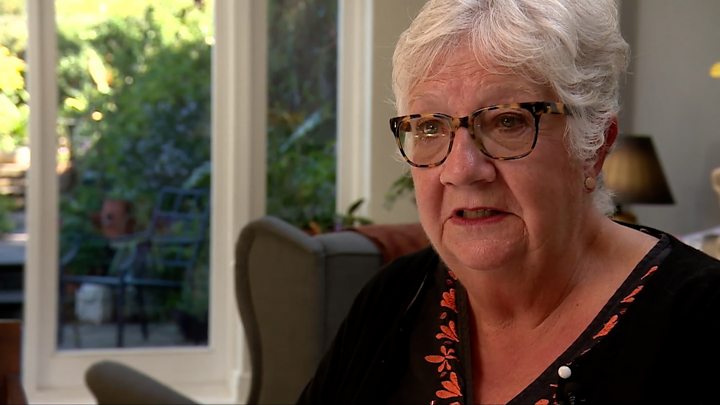 A short history of the scandal
About 5,000 people with haemophilia and other bleeding disorders are believed to have been infected with HIV and hepatitis viruses over a period of more than 20 years – nearly 3,000 of them have since died.
This was because they were injected with blood products used to help their blood clot.
It was a new treatment introduced in the early 1970s. Before then patients faced lengthy stays in hospital to have transfusions, even for minor injuries.
Britain was struggling to keep up with demand for the treatment – known as clotting agent Factor VIII – and so supplies were imported from the US.
But much of the human blood plasma used to make the product came from donors such as prison inmates, who sold their blood.
The blood products were made by pooling plasma from up to 40,000 donors, and concentrating it.
People who underwent blood transfusions were also exposed to the contaminated blood – as many as 30,000 people may have been infected.
By the mid-1980s the products started to be heat-treated to kill the viruses.
But questions remain about how much was known before this, and why some contaminated products remained in circulation.
Screening of blood products began in 1991 and by the late 1990s, synthetic treatments for haemophilia became available, removing the infection risk.
'We have been betrayed and lied to'
Steve Dymond is now in his early 60s. He initially had only mild symptoms of haemophilia and led an active life.
During the 1980s his health began to suffer. His muscles were sore, his joints ached and he was always exhausted.
After going to hospital following a minor hand injury in the mid-1980s, he was told he had been treated with Factor VIII that had not been heat-treated.
The concern was that he may have been exposed to HIV.
At the time it took 18 months to get a diagnosis – a wait that his wife Su Gorman said put their lives on hold.
He was given the all-clear, but in the 1990s was diagnosed with hepatitis C.
He is now clear of hepatitis C, although his health has continued to suffer.
Two years ago he suffered a near-fatal stomach bleed, has suffered hearing loss and has a damaged liver, leaving him at risk of cancer.
He said people have been "betrayed and lied to" throughout, with the government, health professionals and drug companies all guilty of trying to avoid responsibility.
"It is difficult to try to imagine – even though there is a public inquiry – how they will be able to get past these walls of obfuscation," said Mr Dymond.
Why have an inquiry now?
The government has been strongly criticised for dragging its heels.
There have been previous inquiries. One was led by Labour peer Lord Archer of Sandwell and was privately funded.
It held no official status and was unable to force witnesses to testify or force the disclosure of documents.
Meanwhile, the Penrose Inquiry, a seven-year investigation launched by the government in Scotland, was criticised as a whitewash when it was published in 2015.
Greater Manchester mayor and former health secretary Andy Burnham has repeatedly called for a probe into what happened.
Mr Burnham claimed in the House of Commons last year that a "criminal cover-up on an industrial scale" had taken place.
The government announced there would be an inquiry only after it faced a possible defeat in a vote on an emergency motion.
What's next?
The inquiry could last more than two years.
Payments have been made to some of the people who were infected – the first fund was set up as long ago as 1989.
But if the new inquiry finds culpability, it opens the door to victims seeking large compensation payouts through the courts.
Retired judge Sir Brian Langstaff, who is leading the inquiry, said it marked the start of something which several people had campaigned for over many years.
He said there had already been more than 100,000 documents submitted, with the prospect of lots more to come.
Speaking at the start of the inquiry, he said if the campaigners were right there was a "real chance" the numbers affected could rise as there would be people out there who did not yet know they had been infected.
"It is a truly sobering thought," he added.
Liz Carroll, chief executive of The Haemophilia Society, called on the inquiry to work diligently to "uncover the truth, bring justice and ultimately closure for victims and their families".
"This scandal devastated generations of people with haemophilia and other bleeding disorders.
"Our members have waited decades for this to be properly investigated."