Food
Rain falling in areas scarred by Camp Fire
Nearly two weeks after the Golden State's deadliest and most destructive fire began, 563 people are still unaccounted for, Butte County Sheriff and Coroner Kory Honea said. Authorities started with a list of roughly 2,052 people and worked around the clock to identify the dead and account for survivors so they can focus on getting people back into their homes, he said.News of two more deaths brought the total number of people killed in the Camp Fire to 83. Of the 83 sets of recovered remains, 58 of them have been tentatively identified, Honea said. He identified six people by name in Wednesday's news conference.The updated figures come as Northern California contends with much-needed precipitation that could also bring flash floods and mudslides to towns charred by the devastating Camp Fire. Almost 1 million people are under flash flood watch in that part of California, where 4 to 6 inches of rain are expected to fall through Friday. Rain began in Paradise late Wednesday morning, dropping nearly an inch by late afternoon.The potential downpours could put an end to the fire season or at least ease the fire risk while also bringing new dangers.
"Rapidly rising water could flood roads, hampering search efforts and putting displaced residents camping outdoors in peril," CNN meteorologist Gene Norman said. With the heavy rain on the way, search teams were racing to find human remains, evacuees debated fleeing again and firefighters rushed to remove downed trees and unneeded equipment.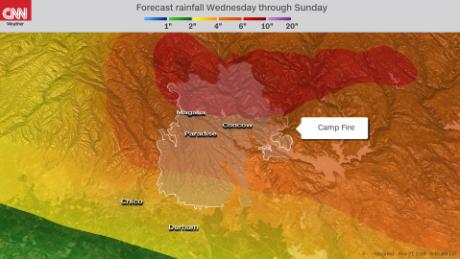 Search for missing to be 'much more difficult'
The first bout of heavy rain is expected to hit Butte County. The heaviest amounts will come Thursday afternoon through Friday afternoon, with between 2.5 and 4 inches expected during that 24-hour period.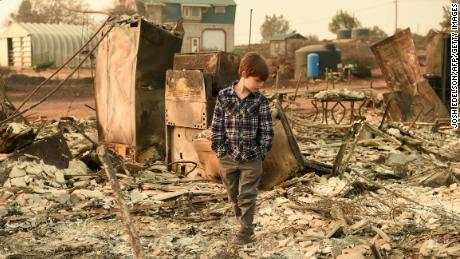 When the rain comes, "It's going to consolidate the material and make it more dense. And it's going to present much more like soil. So anything we find or hope to find that's still there, it's going to make a difficult task … that much more difficult," said Brian Ferreira, rescue squad officer for California Task Force 4. In Paradise, a town virtually wiped out by the Camp Fire, the storms will bring about an inch of rain Wednesday and could cause ash flows, or a slurry of ash swept away by rainwater. Ferreira said it's possible some remains could be washed away. If that happens, "it's out of our hands at that point. We're going to go as hard as we can, as long as we can, until we can't go anymore. That's what's going to happen."
Butte County is keeping a list of the people who are unaccounted for after the fire. Honea urged those who see their own names on the list or the names of loved ones found safe to contact the sheriff's office.The Camp Fire has charred more than 153,000 acres and was 80% contained Wednesday morning. It has destroyed more than 13,500 homes.
Evacuees flee, some brace for flooding
Across Butte County, residents were bracing for a possible deluge.Jennifer Debrunner is staying at the Butte County Fairgrounds in a motor home loaned by a stranger. She told CNN affiliate KCRA that her family covered everything they own with a tarp. Debrunner said she knows the rain will bring "a lot of mud, a lot of cold" to the area. But this Thanksgiving week, Debrunner said she's grateful her family has a borrowed RV.Cady Machado has been camping out in a Walmart parking lot with her husband and 9-month-old baby. Due to the expected rain, Machado told CNN affiliate KTXL, she's sending her child to her sister's in Arizona. As for herself and her husband?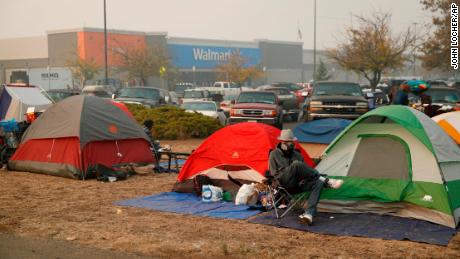 "There's a nice bridge with my name on it to go underneath where I won't get flooded out with my husband," she told KTXL.The Red Cross and other aid groups have opened additional shelters for people and pets in the area, KCRA reported."We want to make sure those people who are staying in tents know that these spaces are available for them so they can get out of the elements," said Shawn Boyd with the California Governor's Office of Emergency Services.Officials lifted evacuation orders and warnings for several more areas Tuesday but cautioned residents "to take steps to ensure they have food, water and fuel for their vehicles."'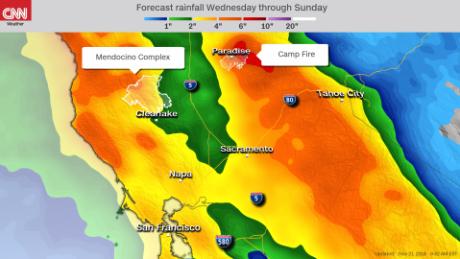 Possible mudslides threaten Southern California
Rain also is expected in Southern California, where the Woolsey Fire was burning west of Los Angeles. As of Wednesday, the blaze had killed three people and torched more than 96,000 acres. It's now nearly 100% contained.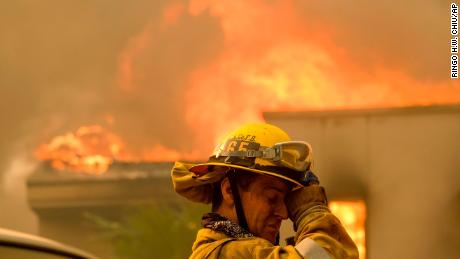 The Woolsey burn area is expected to get less than an inch of rain. But it's still at risk of mudslides and minor debris flow from Wednesday to Thursday, the National Weather Service in Los Angeles said. Mudslides are more likely in the Woolsey Fire area because fires in the southern part of the state tend to destroy vegetation roots, said Robert Baruffaldi, a meteorologist in the National Weather Service's Sacramento office. Officials in Ventura and Los Angeles counties were urging residents to prepare for the rain. Fire departments in both counties are making an emergency supply of sandbags available to the public at fire stations.
CNN's Paul Vercammen, Silvio Carrillo and Jeff King in Paradise, California, and CNN's Steve Almasy, Joe Sutton, Stella Chan, Tayor Ward, Holly Yan and Amir Vera contributed to this report.