Sports
MotoGP: America has its new King
The race meeting had begun on a somber note, on Friday, with the official retirement of the late MotoGP champion Nicky Hayden's race number. The beloved American racer, who died after a training accident in 2017, was celebrated in a moving ceremony attended by his family alongside champions past and present.Hayden's father tearfully accepted a trophy emblazoned with his son's number, 69, and the rider's world championship winning Repsol Honda was reverently displayed in the paddock and then at the head of the grid.READ: Fire destroys entire fleet of electric bikes ahead of championshipREAD: From a roar to a whirr — MotoGP goes electric
Procession
The MotoGP of the Americas has become something of a procession in recent years for Honda's current world champion, Marc Marquez.The Catalan is known as the King of COTA, and not without good reason. The 26-year-old has so dominated the meeting that he came to Austin in search of a record-equaling seventh consecutive win.For much of the weekend, that search looked as though it would bear fruit. Marquez stormed to pole position with a performance that left no one in any doubt that he would take some challenging.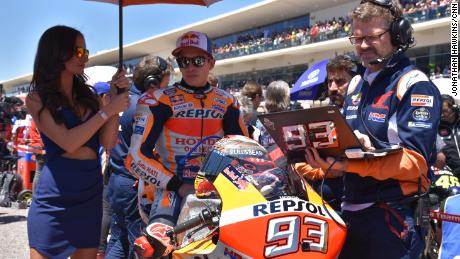 Challenging was the word of the day during Saturday's sessions. Rain had been forecast, but the circuit was lashed with violent thunderstorms.Even after those subsided, fierce winds whipped along the track, threatening to lift some of the paddock's flimsier structures off onto the nearby Texan plains.One practice session was canceled, and the Australian rider Jack Miller described the conditions as 'scary' after qualifying.Certainly, team engineers were left scratching their heads about which settings might best suit the race after a day containing almost every possible weather permutation. Ducati's Andrea Dovizioso suffered in particular; the championship contender was left in 13th place after a disastrous Saturday.The evergreen Valentino Rossi, to the delight of his legion of fans, delivered an enormously impressive second place on the grid, with Briton Cal Crutchlow equally eye-catching in third.
Sizzling race
Come Sunday, the conditions were transformed once again. A bright but chilly start evolved into a sweltering, sunny afternoon. Sunbathing fans were treated to an equally sizzling race.At first, the riders appeared to stick to the script; Marquez blasted into a convincing early lead and Rossi kept pace, while behind him Suzuki's Alex Rins and Pramac Ducati's Miller jostled for position.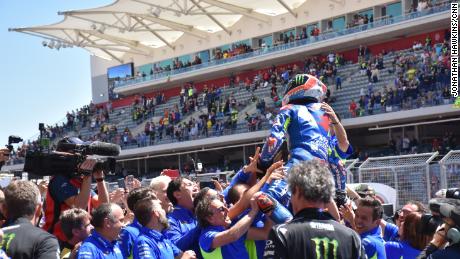 Crutchlow held third but crashed out early on, while Dovizioso banished memories of qualifying with a superb start, clawing his way up to sixth.Then, the unthinkable happened. On lap nine, as his lead appeared to solidify, Marquez lost the front of his bike. It slid off into the gravel with the Catalan desperately hanging on, as if attempting to right the bike as it rotated off the asphalt.The world champion heaved the Honda back onto its wheels and remounted, but couldn't restart its stalled engine, eventually falling again in a frustrated heap, cursing his mistake.On the track's giant screens a young Marquez fan was seen desperately wailing at the sight of her idol dropping out, but there was nothing anyone could do. The King of COTA's throne was up for grabs.No one could have relished the prospect of deposing the young favorite more than Rossi, whose yellow-clad fans erupted as the Italian roared past the packedRead More – Source