Beauty
Nudestix has been hailed as the ultimate 'no-makeup makeup' range so do the products live up to the hype?
Your ads will be inserted here by
Easy Plugin for AdSense.
Please go to the plugin admin page to
Paste your ad code OR
Suppress this ad slot.
PRODUCTS

Nudestix Nudies Matte Blush, £28
Nudestix Nudies All Over Face Colour Glow, £30 both from the Nudestixs Nudies Cheek Product Range.
THE HYPE

It might be a lesser-know newcomer to the cosmetics market, but that doesn't mean Nudestix is a brand to be overlooked. The cosmetics collection is all about low-maintenance makeup; something we can definitely get on board with. Dubbed Easy to-go makeup stix, the brand aims to make putting on makeup as convenient as possible, allowing people to cheat their way towards that effortlessly put-together look we all strive so hard to achieve.
As a self-proclaimed 'no-makeup makeup' fanatic, I wanted to test their blush and highlighter products, to see if I could indeed cheat my way to fresh looking skin.
Advertisement
The Nudies Matte Blush & Bronze (£28) come in 7 shades, ranging from 2 bronzing shades and a more neutral mauve-toned hue to more vibrant shades, which have all been created to help beauty buffs achieve the ultimate fresh flush on the cheeks. Meanwhile, the Nudies All Over Face Colour Glow (£30) comes in 3 shades and promises to give skin a super subtle glow.
Here's every single trick we know for 'I woke up like this' natural-looking makeup
The best part is the handy products are pocket-size crayons and can be scribbled all over your face in any which way you like.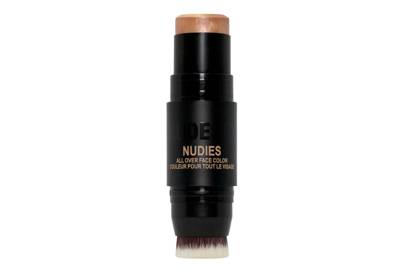 Advertisement
REVIEWER

Nicola Lewis, Work Experience
BEAUTY BIO

With oily-skin prone to the odd blemish, I am continuously looking for products that achieve maximum impact with minimal effort. I also look for cosmetics that manage to look semi-natural on the skin. My ultimate makeup products give me flawless coverage on blemishes, look as undetectable on the skin as possible and are incredibly long-lasting, resisting the need to touch up at all. Too much to ask? Let's find out…
THE REVIEW

I've always steered clear of cream or liquid cheek products for fear that they'd enhance my skins oiliness but after riskily trying Glossiers Cloud Paint Blushes (£15) about a year ago, I have been converted to the cream product fanbase.
After dipping my toe in the world of cream products, I trialled Nudestixs Nudies Cheek Products and I'll never look back. The Nudies Matte Blush in the shade Sunset Strip was a perfect purchase ahead of the summer season, as the sha