Beauty
These genius eye masks are being hailed as 'miracle workers' for curing insomnia
Sleep, let us count the ways we love thee. Not only does a good night's kip give your skin an incredible glow but it's also the single most important wellness hack for good health. However, as anyone with insomnia knows only too well, it isn't such a godsend when you can't actually get enough of the stuff.
If, unfortunately, you're one of the many million people around the world who suffers with insomnia (we feel ya), a surprising eye mask could be the answer to your shut-eye woes.
Here's what 8 hours of sleep does for your skin (in case you need another reason to hit snooze)
Advertisement
Struggling to nod off in this muggy summer heat? Allow us to introduce you to Spacemasks – an eye mask that shoppers are saying totally cured their insomnia.
So how does it work? Well, the heating process works by a thin layer of iron filings entwining with the oxygen molecules in the air.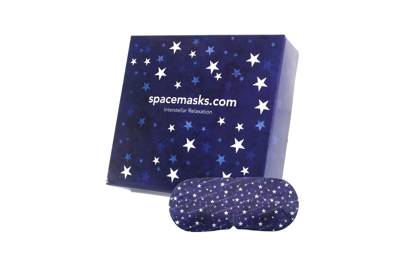 "Within minutes of putting on your Spacemask you will feel it warm up and start to mellow your tired eyes and face," say the creators behind the mask. "The soft jasmine smell will help to transport you away. Somewhere between Jupiter and Andromeda. Allow yourself to float freely. Letting go of the days frustrations and annoyances. For the next 15 minutes enjoy the space and freedom of leaving the Earths gravitational field. Your eyes and your head will thank you for the time to recover and reenergise."