News
Dozens Killed In Airstrike On Military School In Libyan Capital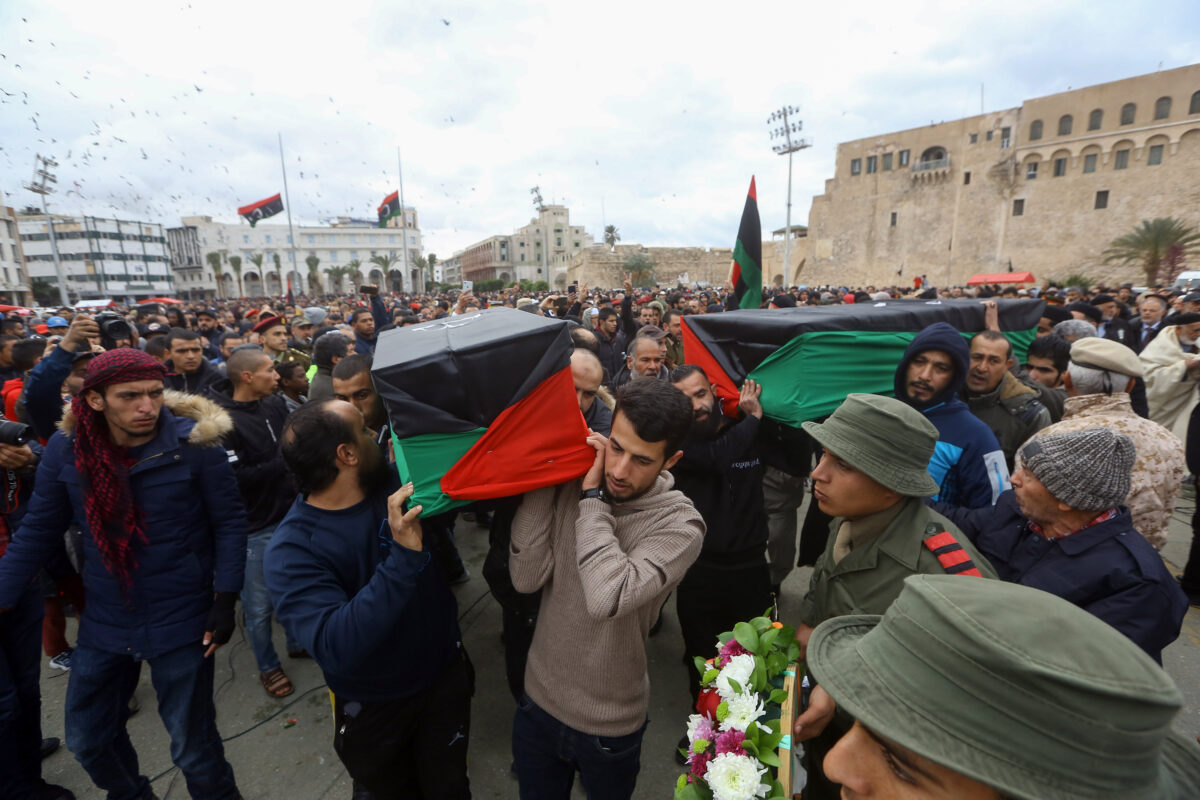 At least 30 people have been killed in an attack on a military academy in the Libyan capital of Tripoli, as fighting over control of the city between rival armed groups escalates, Reuters reports.
A further 33 people were left wounded in the attack, which took place on Jan. 4, as cadets gathered on a parade ground at the Hadaba academy in a southern district of the capital, the health ministry of the Tripoli-based government said on Sunday.
The majority of the victims were cadets from cities across the country aged between 18 and 22 who were left severely burned or "torn apart" during the attack, according to Al Jazeera.
Medical sources at public hospitals in the city said they had struggled to identify many of the bodies due to their acute injuries.
It is the latest in a string of airstrikes and shelling since the Libyan National Army (LNA), led by military commander and former general in Muammar al-Gaddafis army Khalifa Haftar, launched a ground and aerial offensive in April to take Tripoli, the base of Libyas internationally recognized Government of National Accord (GNA).
Misrata is under the control of a Tripoli-based government, supported by Qatar and Turkey, which are allies of Iran.
The U.N.-supported Libyan government in Tripoli blamed the airstrike on Hafters army, which is supported by a rival administration based in the eastern city of Tobruk. Both the governments have been vying for control after the 2011 fall of al-Gaddafi left the country in chaos.
However, a spokesman for the LNA, Ahmed al-Mesmari, denied launching airstrikes on the military academy, and instead blamed the attack on Islamic extremists.
Neither side is yet to provide evidence to support their claims.
In a statement on Twitter, the U.N. Support Mission in Libya condemned the attack and warned that escalating military action "in this dangerous manner further complicates the situation in Libya and threatens opportunities to return to the political process."
Meanwhile, the Government of National Accord Foreign Ministry (GNA) called for Haftar and his aides to be referred to the International Criminal Court and tried on charges of committing "crimes against humanity."
It added that it will be calling for an emergency UN Security Council meeting to discuss the alleged crimes.
Violent clashes have escalated in Tripoli in recent weeks after Haftar declared a "final" offensive to seize the capital. It followed Tripoli authorities signing a military and maritime agreement with their ally Turkey calling for the deployment of Turkish troops to Libya.
Turkish president, Recep Tayyip Erdoğan, announced on Jan. 5 that Turkish troops have begun deploying to Libya to support Fayez al-Serrajs internationally-recognised Government of National Accord (GNA), based in Tripoli.
Turkeys parliament approved a bill on Thursday allowing for the deployment of troops in the country in a bid to protect Ankaras interests in NortRead More – Source