News
Pompeo Condemns Beijings Coronavirus Disinformation in Call With Top Chinese Diplomat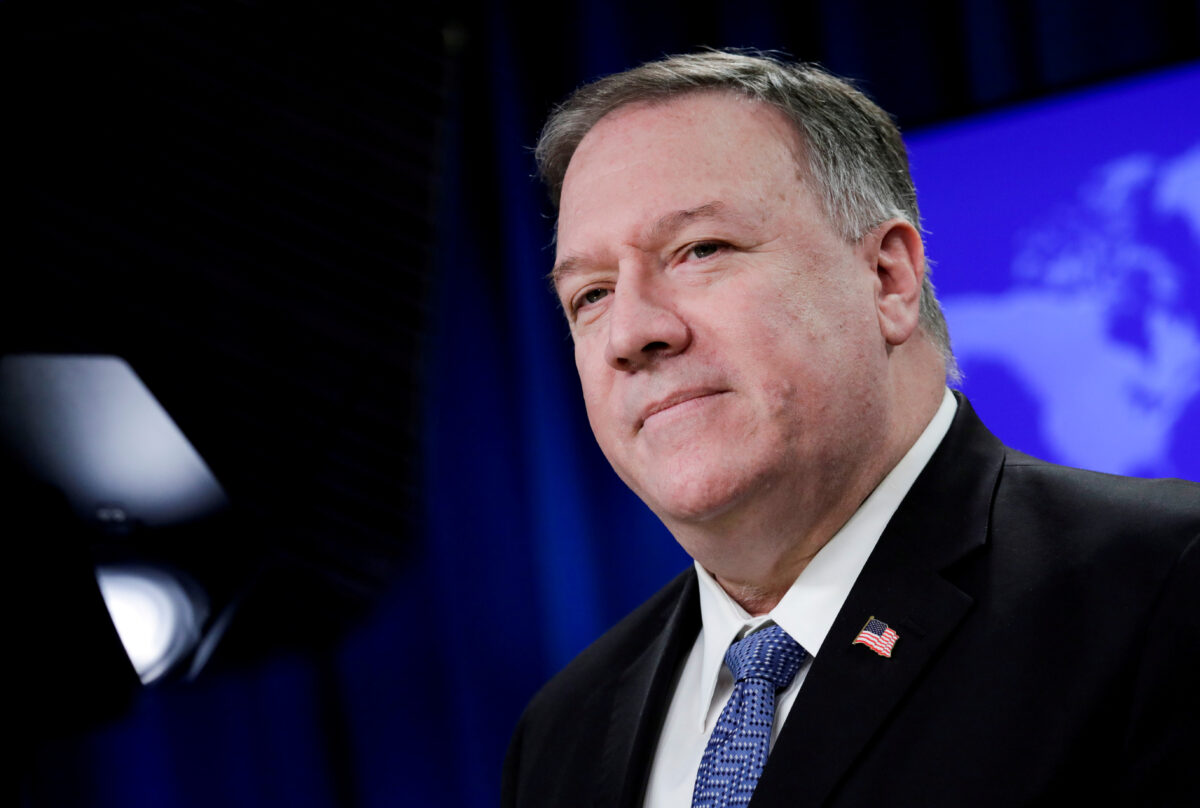 Secretary of State Mike Pompeo raised "strong U.S. objections" to Beijing over the Chinese regimes efforts to shift the blame for the coronavirus pandemic, days after a top Chinese official promoted a conspiracy theory about the virus origin.
In a March 16 phone call with Chinas top foreign affairs official, Yang Jiechi, Pompeo stressed "this is not the time to spread disinformation and outlandish rumors, but rather a time for all nations to come together to fight this common threat," a State Department statement said.
Chinese foreign ministry spokesperson Zhao Lijian has been one of the highest Chinese officials pushing the unfounded allegation that the virus originated in the United States and was later introduced to the central Chinese city of Wuhan, the outbreak epicenter.
"When did patient zero begin in [sic] US? How many people are infected? What are the names of the hospitals?" Zhao, known for his often-confrontational social media posts, wrote in both Chinese and English last week on Twitter, a platform that is banned in China.
"It might be [sic] US army who brought the epidemic to Wuhan. Be transparent! Make public your data! US owe [sic] us an explanation," he continued.
Zhaos assertions prompted a U.S. state department official to summon the Chinese ambassador to the U.S. Cui Tiankai on Friday.
"The US side noted how Beijings storyline on what has become a global pandemic has been shifting away from the Wuhan Huanan market since mid-January, indicating that Beijing is trying to avoid responsibility for the outbreak," a state department spokesperson told The Epoch Times in an email on Saturday.
Chinese officials initially linked the outbreak to a suburban seafood market, where many of the initial cases were linked to, although the government has recently sought to deflect the virus Chinese ties.
U.S. national security advisor Robert OBrien, during a speech at Washington-based think tank Heritage Foundation on March 11, said the regime had initially attempted to censor doctors and whistleblowers who tried to speak about the outbreak, "so that word of this virus could not get out."
"It probably cost the world community two months to respond," OBrien said.
In response to US concerns over the regimes lack of transparency and its efforts to redirect blame over the outbreak, Beijing has accused US officials of "smearing" China.
Yang, in the call with Pompeo, told his U.S. counterpart that "[s]ome U.S. politicians have been consistently smearing Chinas outbreak control efforts … which has brought strong indignation from the Chinese people," according to Chinese state media.
Chinese foreign ministry spokesperson Geng Shuang, in a March 13 press conference, insisted that the source of the virus is "a matter of science." He also accused "certain high-level U.S. officials" of making "unfounded and irresponsible comments" to "smear and attack China."
Pompeo also recently hit back at the regimes claims that the virus may not have come from China. CalRead More – Source