News
COVID-19 Economic Response Takes Canada Into Uncharted Waters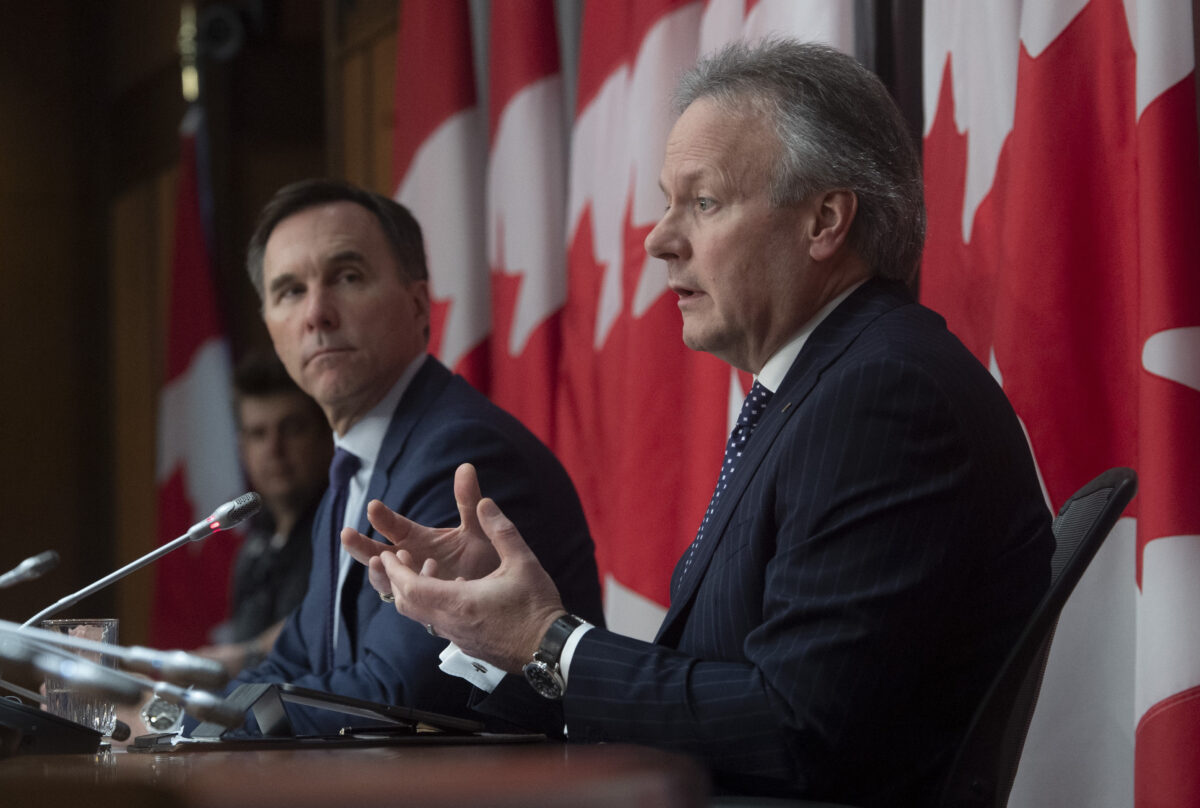 News Analysis
To limit economic damage from the CCP virus pandemic, the Canadian government and Bank of Canada are being pushed well beyond the extents they reached in dealing with the financial crisis a decade ago. The unprecedented actions and money being spent are meant to buy time so that theres still an economy left when the pandemic has run its course.
But after digesting the human cost of the CCP (Chinese Communist Party) virus—commonly known as novel coronavirus—for the economy, whats left on the other side is not going to be pretty given the soaring deficit, partial destruction of the tax base, and looming inflation.
Already estimates of a 25 percent drop in second-quarter GDP and 5 percent drop for 2020 are out there, as people are told to stay home and large parts of the economy hunker down.
Policy-makers are more focused on getting money out the door than worrying about how the dust will settle in the long run.
But two experts say that while policy-makers appear to be short-sighted now, a critical consideration to keep in mind is that the economys ability to produce needs to be rebuilt so that this wave of government spending doesnt see prices for consumer goods skyrocket.
"Make sure that businesses have incentives to open up and to invest, and to hire workers. Make sure that we eliminate barriers to labour mobility. Weve got to get rid of all of these internal barriers where construction workers in one province cant work in another province and doctors in one province cant practise in another province," Steven Globerman, professor emeritus at Western Washington University, told The Epoch Times. "We have to improve productivity. And we have to get on it quickly."
"The long-run solution requires increases in the supply side capacity of the economy so that we can stimulate without causing inflation," added the resident scholar and Addington Chair in Measurement at the Fraser Institute.
A term often mentioned these days is liquidity. This is what the government is trying to provide to businesses and households—such as via loans to businesses and wage subsidies—to ensure parts of the economy can hang in there and arent lost for good. Strictly speaking, this is different from stimulus, which is meant to to boost an already functional economys longer-term potential growth.
"We want to prevent as many fundamentally healthy households and businesses from going under, so that theyll be there to resume activity," Philip Cross, former chief economic analyst at Statistics Canada and Macdonald-Laurier Institute Munk senior fellow, told The Epoch Times.
Deficit Spending, Ever-Growing Debt
In dealing with this crisis, the Bank of Canadas rate cuts and bond buying—tools of monetary policy—are focused on keeping financial markets functioning well. The burden of keeping the economy afloat is primarily being borne by government spending—a tool of fiscal policy.
In a joint press conference on March 27, Finance Minister Bill Morneau and Bank of Canada Governor Stephen Poloz wanted to send a clear message that theres more that they could do.
Morneau said the government is pumping out 5 percent of GDP now. "We have not put a cap on what we might need to invest," he said.
Poloz said theres no theoretical limit to how much of the governments spending the Bank of Canada could finance.
The BoC insists it has more tools in the box should the economic situation worsen, but Poloz admitted that monetary policy is "perfectly ill-equipped to do much" given the nature of this particular economic crisis.
A Parliamentary Budget Officer (PBO) report stated that the federal deficit would be 5.2 percent of GDP (deficit of $113 billion based on announcements up to March 23) in 2020–21—the biggest seen at the federal level.
TD Securities projects that with the spending Morneau announced on March 27, the governments borrowing needs will reach $619 billion next year—up from $270 billion in the fiscal year ended March 31, 2020. The BoCs announced pace of bond buying—$5 billion a week—would buy all new government bonds issued.
Modern Monetary Theory: No Free Lunch
Polozs comments on March 27 that the BoC has an unlimited ability to finance the governments spending (thus creating more money) may make Modern Monetary Theory (MMT) seem applicable.
Proponents of MMT say that deficits dont matter and that the central bank can seemingly magically keep financing the government without raising taxes.
Poloz himself discredited the theory in a December speech. He said theres no such thing as a free lunch.
"It has been tried many times in the past, and the record is not pretty," he said.
Very rapid creation of money—like when the central bank lends to support big increases in government spending—assuredly leads to inflation. A case in point is the lRead More – Source