News
Canadians Spread Kindness During Pandemic Crisis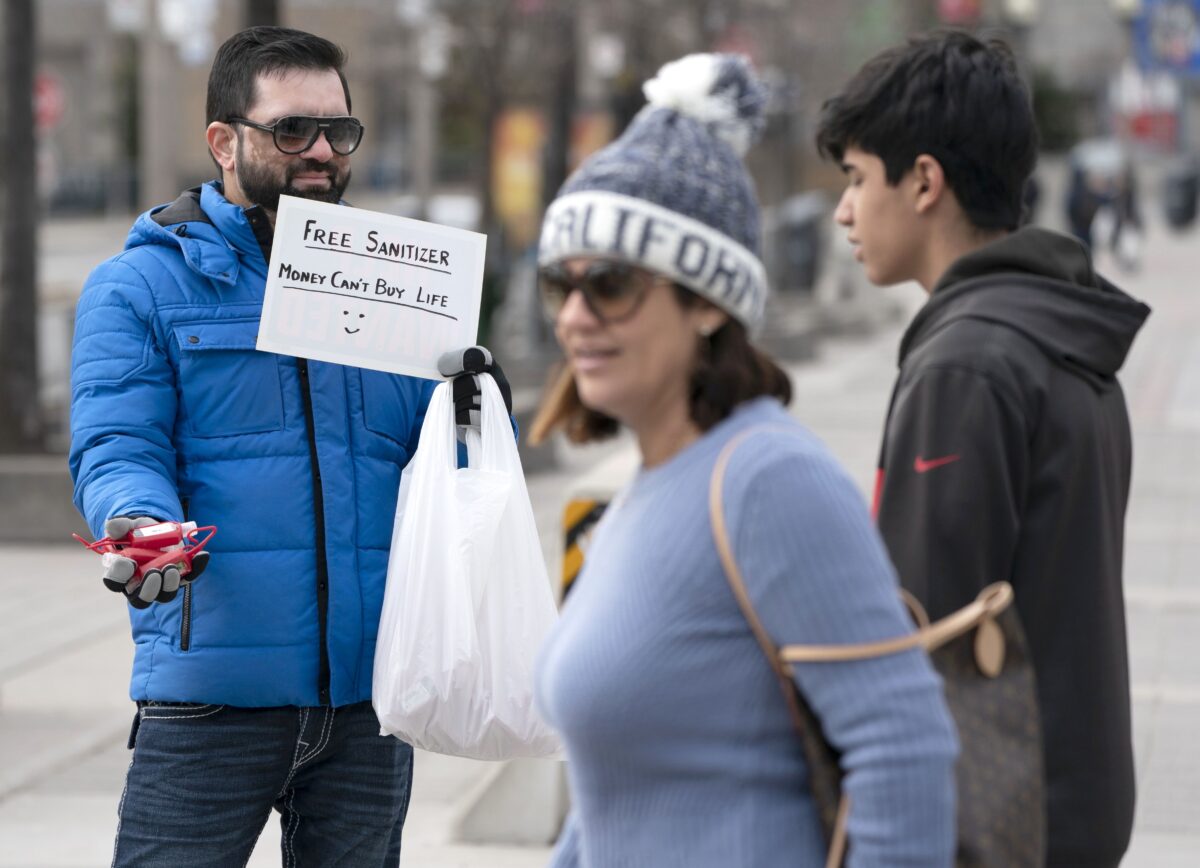 Amid the COVID-19 pandemic, incidences of kindness have broken out across Canada. Without fanfare or reward, people and organizations have given not only of themselves and but also of their possessions to help others.
In Toronto, one man even took it upon himself to stand at the base of the CN Tower and hand out free hand sanitizer to passersby, holding a sign saying "money cant buy life."
The following are some examples of Canadians stepping up to assist others in a variety of ways as the pandemic continues with no sign of abating.
In Paris, Ontario, Collin Bliss has been helping three elderly housebound couples by dropping off groceries at their door.
"They just dont want to go out and risk it," Bliss told The Epoch Times. "They are all over 80. They get a cold and it knocks them out for two weeks."
Although Bliss enjoys great health, his income has diminished. The pandemic sidelined his usual opportunities as a contractor and IT project manager. He has filled the time doing yard work and handyman tasks for seniors and single moms.
"Im good with it. I think this situation will wake a lot of people up and strengthen communities as they should be, now [that] the distractions of entertainment [like] sports and concerts is gone. All a blessing."
Bliss adds, "What all this single-mom helping has done is inspired me to join the big brothers/sisters program. Plus, I started an application for foster parenting."
I Feel Absolutely Honoured
Saskatchewan resident Shauna Gutheil, a mother of two on a farm near Weyburn, started making masks on her sewing machine after one of her former high school teachers invited her to do so.
"I feel absolutely honoured that I was reached out to," Gutheil said. "I love to help and I love to sew, so it really wasnt hard for me to say yes."
The mask design comes from a video by Erica Arndt and includes two exterior pieces of cotton, a flannel middle layer, and elastic to go around the ears. Gutheil has already sent 30 masks to Ile-à-la-Crosse in northwestern Saskatchewan where her former teacher now works in health care.
Gutheils more recent masks substitute flannel with a piece of furnace filter. She plans to send 60 more to Ile-à-la-Crosse by the end of the week, with others going to a doctor in Regina.
As Gutheil fights the virus one stitch at a time, she encourages others to do what they can.
"During this crisis I feel its very important that we all give what we can, whether its a smile to brighten someones day or a task such as mine, by sewing."
Teamwork and Collaboration
Dentists David Stock and Derek Thiessen of Swift Current, Saskatchewan, have also pitched in to help supply masks—although not the home-made kind. The two consolidated their N95 mask supplies to handle dental emergencies and relieve the strain on hospitals.
"[T]he teamwork and collaboration I have experienced with other Swift Current dentists this past week is unsurpassed!" Stock said in a Facebook post on March 26. "Helping our community means so much to all of us."
But Stock wasnt done. He learned how to use a 3D printer to produce face shields for health care workers. Local companies offered their printers to print coloured frames. Stock reached out for supplies to make more and got responses from friends and strangers alike.
"I am so grateful for the level of support from people all across Saskatchewan that want to help donate face shields during this crisis," he said.