News
Maltreatment of Africans in China Following Virus Infections Prompts Backlash in Nigeria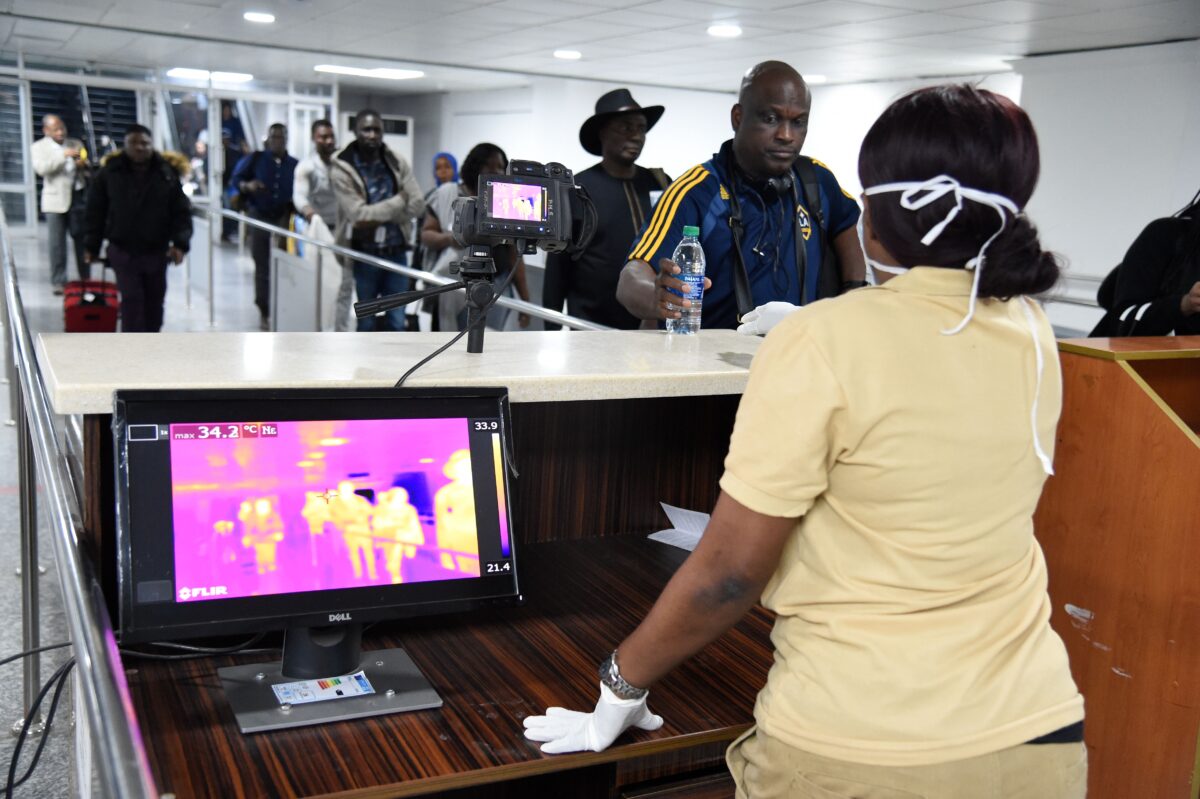 LAGOS, NIGERIA—Asita Awovie left Nigeria last year on a scholarship to study Civil Engineering at the Changan University in the Shaanxi province of China. After less than a year in the country, Asita says he wants to return home and never go back to China.
Asitas parents mounted pressure on him to return home ever since videos of maltreatment of Nigerians and other Africans in Guangzhou and other parts of China surfaced on social media last week, fuelling safety concerns.
"My parents are worried because they think it is not safe living here anymore," Asita told The Epoch Times on the phone. "They asked me to come back home."
"The situation in my region is fair and the university tried to keep us safe but as for me, I dont actually trust China again," Asita says.
Last week, after some African immigrants in the southern Chinese city of Guangzhou tested positive for COVID-19, African students and businessmen were left homeless after being evicted from their homes and hotels by Chinese landlords and officials, sparking uproar and apprehension in Nigeria. The evictions have been termed racial targeting of blacks in China as the country continues its fight against the coronavirus outbreak.
In the videos and pictures, some Nigerians could be seen walking on the streets with their luggage while some were seen lying on street corners. There were also reports of seizures of their passports as well as forceful quarantines.
The claims of discrimination have prompted a public backlash in Nigeria as the videos trended online. Many Nigerians took to their social media accounts to call out the Chinese regime, using different hashtags.
"Do you know how much Nigeria contributes to Chinas economy every year? Almost 90 percent of commodities in Nigeria are imported from China and look at how they (Nigerians) are paid back," Ikechukwu Nwakezie wrote in the comments section of one of the trending videos on Facebook. In the video, some Nigerians were protesting the eviction from their hotel rooms.
Nigerian activists have called on their government to intervene, noting that the fallout of the crisis would undermine Chinas diplomatic relations in Nigeria. Some of them recalled that China had criticized the United States of racially profiling as Chinese citizens in the United States and other countries.
Leading the outcry against the discrimination, the Consul-General of the Nigerian High Commission in China, Anozie Maduabuchi Cyril, accused Chinese officials of racially targeting Nigerians, adding that it was unfair since many Chinese in Nigeria were not treated that way after Nigeria witnessed its first COVID-19 case in February.
According to the Nigeria Center for Disease Control, there have been 318 confirmed COVID-19 cases and 10 deaths in Nigeria, while 70 people in the country have recovered. Most Nigerian cities are on lockdown.
Challenging a Chinese official on the discrimination against Nigerians, Cyril said, "In Nigeria, we have a lot of Chinese. I dont think you have ever received any information that the government of Nigeria go to their various houses and pick them for quarantine, so why are Africans and indeed Nigerians being targeted? We have European people here, people from America, Spain, and Italy and other countries, so why are you harassing them?"
The backlash coincides with a protest by the Nigerian Medical Association against the Nigerian governments decision to enlist the support of Chinese doctors to help curb the scourge of coronavirus in Nigeria. The arrival of 15 Chinese medical professionals in Nigeria last week has further heightened the criticism.
Speaking with The Epoch Times, a Ghanaian medical doctor, Kojo Hutchfull, condemned the discrimination against Africans in China, describing it as a violation of their human rights. He maintained that Nigeria should not have accepted the Chinese doctors due to the maltreatment of African citizens in China.
Hutchfull, who has been practicing medicine in Nigeria for thirty years, says, "We have a common enemy (coronavirus) but why are we opposing one another? I heard they (Africans) were forced out of their homes and some of them were beaten while some passports were seized. This is unacceptable. We should join forces against the common enemy."
The reports of discrimination have also attracted the attention of the National Human Rights Commission of Nigeria. Over the weekend, the commission released a terse statement signed by its Executive Secretary, Tony Ojukwu, in which it condemned the unjust treatment of African nationals in China.
The commission urged the "Government of Nigeria to take all necessary steps to evacuate Nigerians willing to come home from China and other countries where they are currently at risk of discrimination or any form of racial abuse as a result of the COVID-19 outbreak."
Already in Nigeria, there are fears that the videos could lead to retaliatory attacks against Chinese businesses and citizens in Nigeria and impinge on their bilateral relationships.
Weighing in on the issue in an interview with The Epoch Times, an economist and president of the Chartered Institute of Bankers in Nigeria, Prof. Segun Ajibola, urged both countries to quickly resolve the issue before it gets out of hand, maintaining that China is one of Nigerias closest allies and partners.
According to him, this kind of misunderstanding should not be allowed to derail their bilateral relationship.
"As of today, China is the largest importer of Nigerias oil. As of today, almost all the sectors of the Nigerian economy depend on China, especially the SMEs (small and medium-sized enterprises). Chinese presence in Nigeria is overwRead More – Source
The post Maltreatment of Africans in China Following Virus Infections Prompts Backlash in Nigeria appeared first on News Wire Now.