News
Europe Resorts to Trade Protectionism to Tackle State Subsidies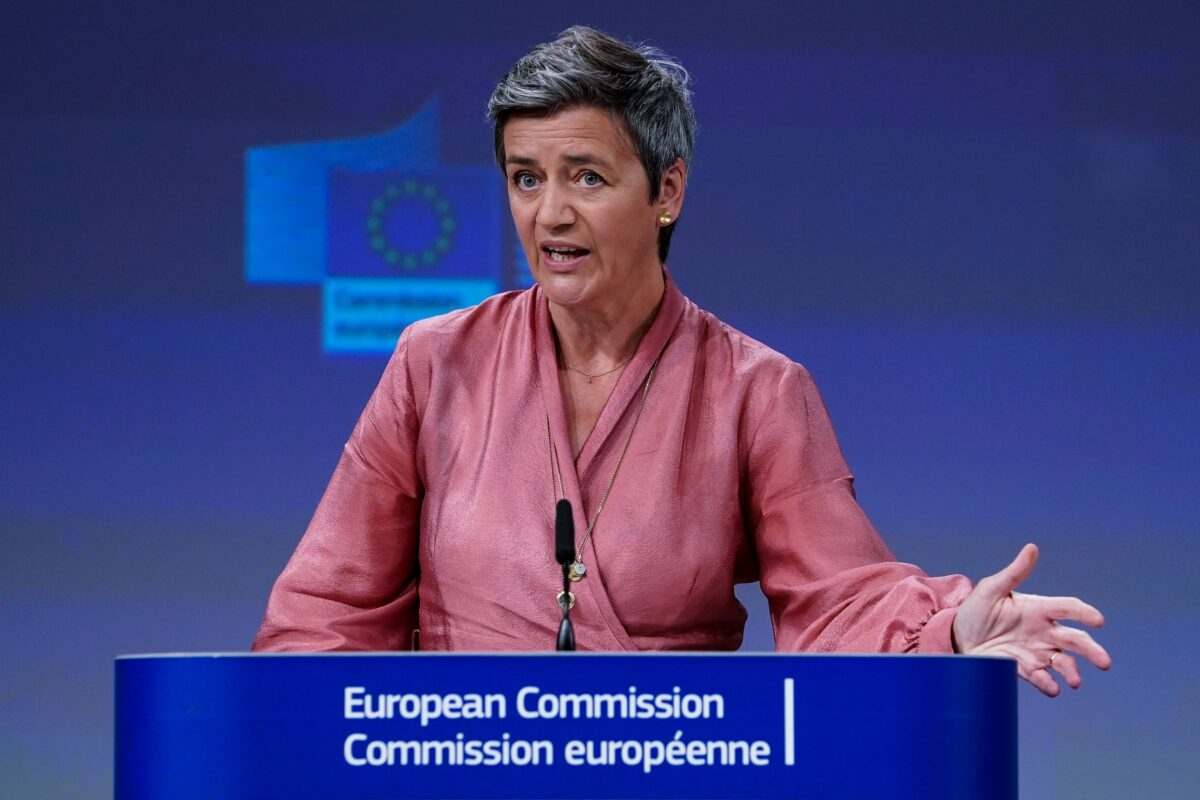 WASHINGTON—The European Union is moving forward with adopting protectionist rules to defend its companies against subsidized foreign competitors, a move that is expected to curtail the activities of state-owned Chinese companies in Europe.
European Commission Vice President Margrethe Vestager, in charge of competition and digital policy, said the EU needs to have "the right tool" to tackle distortive foreign subsidies that are "uncontrolled" and "unchecked."
"We ask businesses in Europe to compete fair and square on the products, quality, affordable prices, innovation, without taxpayers picking up their bills," she said on June 23 at a virtual conference hosted by the Atlantic Council.
She added that the objective of the new policy is to push for fair competition in production and investment and also stand up for European companies when they are faced with unfair competition.
The European Commission recently published a white paper on the damage caused by foreign subsidies in the bloc.
According to the report, foreign subsidies take various forms, which include interest-free loans, unlimited guarantees, capital injections, preferential tax treatment, tax credits, and grants.
These subsidies cause "a loss of competitiveness and innovation potential of companies that do not receive such subsidies," the report stated.
After a period of public consultation, the EU will introduce a new legal instrument on foreign subsidies next year.
Unfair and trade-distortive government subsidies have become a major issue in the world trading system, while the World Trade Organization rules have failed to address these problems, particularly in responding to the Chinese economic model.
The issue of subsidies has also been a top concern of the Trump administration and the impetus for starting a trade war with China.
The phase one China trade deal signed in January doesnt fully resolve this problem, and it will be difficult to ease U.S.–China tensions if the issue of state subsidies remains unresolved in phase two talks with China, according to experts.
In the past decade, through large government subsidies, China has managed to create its own national champions in key industries, including steel, aluminum, and solar panels. And recently, these subsidies have been heavily used to achieve dominance in high-technology sectors, as outlined in the "Made in China 2025″ blueprint.
In response to questions about whether the EUs new protectionist tools would threaten globalization, Vestager said the EU would "never, ever compromise" on the rule of law and "equal treatment principles."
These protectionist measures also will block Chinese bargain buyers who have been looking to acquire distressed assets and companies in Europe during the pandemic.
Vestager said that she hoped "the white paper on foreign subsidy will be pRead More – Source