Politics
Obama Raises $7.6 Million at Fundraiser for Bidens Campaign
WASHINGTON—Former President Barack Obama held a grassroots fundraiser on Tuesday for presumptive Democratic nominee Joe Biden.
Biden, who appeared virtually alongside Obama at the event, said it raised $7.6 million from more than 175,000 individual donors.
The fundraiser marked Obamas official return to the presidential campaign trail and underscored his popularity within the Democratic Party.
Related Coverage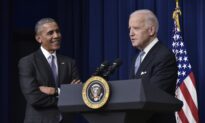 Obama to Hold First Joint Fundraiser With Biden
Obama warned Democrats against being "complacent or smug" about the presidential race, calling on viewers to learn the lessons from 2016 and not take the election for granted.
He implored the audience to get engaged with Bidens presidential campaign, declaring that "whatever youve done so far is not enough."
Trumps Dallas fundraiser earlier this month raised north of $10 million for the campaign, Republican National Committee and the Trump Victory Fund.
Tuesdays event was a kickoff of what Obamas team says will likely be a busy schedule heading into the fall, as he looks to help elect not just Biden but Democrats running for House and Senate.
Obama sometimes struggled to lift other Democratic candidates while he was in the White House, notably losing control of the House in 2010 and the Senate in 2014.
"Theres two groups of voters that Biden needs to move," said Dan Pfeiffer, former White House communications director. "You have the 4 million Obama 2012 voters that sat out in 16, ObaRead More From Source