Politics
St. Louis Couple Charged for Wielding Guns Moves to Disqualify Prosecutor
The couple charged with a felony for standing outside their home with firearms moved this week to disqualify St. Louis Circuit Attorney Kim Gardner after she allegedly referenced the case against the couple in campaign emails.
Gardner, a Democrat, charged the McCloskeys last week with felony unlawful use of a weapon for brandishing firearms as Black Lives Matter protesters congregated near their home.
"It is illegal to wave weapons in a threatening manner at those participating in nonviolent protest," she said in a statement.
Shortly before and after filing the charges, Gardners campaign sent out fundraising emails that referred to the circuit attorneys attempted prosecution of the couple, attorney Joel Schwartz said in new court filings. Schwartz is representing the McCloskeys, who are lawyers.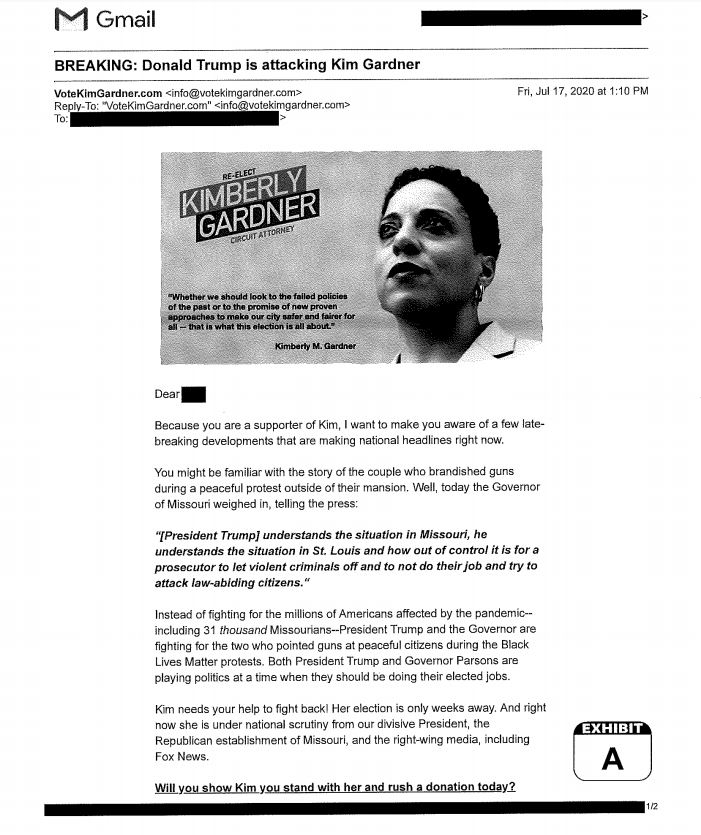 In one email, Gardners campaign allegedly referenced comments made by Missouri Gov. Mike Parson, a Republican, who said that President Donald Trump "understands the situation in Missouri, he understands the situation in St. Louis and how out of control it is for a prosecutor to let violent criminals off and to not do their job and try to attack law-abiding citizens."
Gardner was blamed for the release of dozens of alleged looters and rioters from jail last month.
Her campaign went on to accuse Trump and Parson of playing politics.
"Kim needs your help to fight back! Her election is only weeks away," the message added, imploring people to "rush a donation" to the campaign.
In the other email that Gardners campaign was said to have sent out, the campaign said Gardners decision to file charges against the McCloskeys drew lots of national attention, including death threats.