Politics
Pelosi, Schumer Say Trump Administration Declined $2 Trillion Pandemic Deal
Senate Minority Leader Chuck Schumer (D-N.Y.) said Democrats are willing to reduce the Democratic relief package by $1 trillion if the White House and GOPs leadership will increase their plan by $1 trillion.
Democrats proposed a $3 trillion bill called the HEROES Act, passed by House Democrats in May, while Republicans unveiled their $1 trillion HEALS Act last week.
If the two parties agree to a $2 trillion deal, as Schumer is suggesting, it is not clear what provisions will be left out or included.
Schumer told reporters Friday that Republicans "rejected it totally," referring to the proposal, adding that Republicans want to spend "as little as possible" on pandemic relief.
"Well take down a trillion, if you add a trillion in. They said absolutely not," House Speaker Nancy Pelosi (D-Calif.) added in the news conference. "I will once again make the offer: Well come down a trillion, you go up a trillion, and then well be within range of each other," Pelosi added. "But again, this a very different set of values across the table."
Chief of staff Mark Meadows and Treasury Secretary Steven Mnuchin are expected to meet with Schumer and Pelosi on Friday.
Mnuchin told Fox News after their comments on Friday: "Thats a non-starter."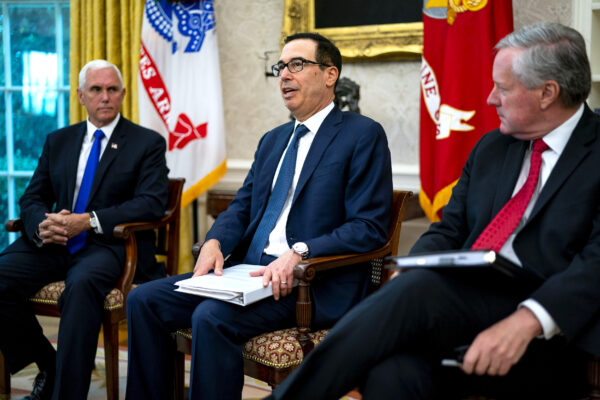 Schumer said that its not possible for a smaller bill to be passed by Congress at this time.
"The House doesnt have the votes to go south of $2 trillion," Schumer said. "Senate Democrats cant go south of $2 trillion, so thats what compromise is all about."
Mnuchin, meanwhile, said that President Donald Trump is not willing to sign a bill that would "bail out" state and local governments. Democrats, in their HEROES Act, included $1 trillion for state and local governments, while Republicans have iRead More From Source