Politics
Barr Says Expect Development on Durhams Crossfire Hurricane Probe Friday
U.S. Attorney General William Barr said that there "will be a development" in U.S. Attorney John Durhams probe into the FBIs counterintelligence investigation of the Trump campaign on Friday.
"There are going to be significant developments on this before the election," Barr told Fox News host Sean Hannity Thursday night.
"But were not doing this on the election schedule," he noted. "Were aware of the election. Were not going to do anything inappropriate before the election. But were not being dictated to by this schedule."
Barr said that the development would not be "earth-shattering," but provide "an indication things are going along at a proper pace, as dictated by the facts in this investigation.
Barr told Hannity that the investigation is going quickly, despite some delay due to the CCP (Chinese Communist Party) virus pandemic. He added that he is "satisfied" with the progress Durham has made.
Last month, Barr said that the November elections will not delay Durhams investigation and pending report.
Related Coverage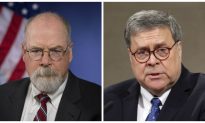 US Attorney Probing Spying on Trump Campaign Draws on Vast Experience
Durham was appointed by Barr in May 2019 to examine the origins of the FBIs Russia-Trump collusion investigation, code named "Crossfire Hurricane." The investigation seeks to determine whether intelligence collection on the 2016 Trump campaign by top Obama-administration officials was "lawful and appropriate," and is assessing whether the FBIs surveillance of former Trump campaign aide Carter Page was free of improper motive.
The investigation was designated a formal criminal investigation in October 2019, which gives Durhams team the ability to issue subpoenas, impanel a grand jury, compel witnesses to give testimony, and bring federal criminal charges. This includes targeting the conduct of current and former senior FBI officials who were involved in obtaining a warrant in October 2016 to surveil Page and sending at least two spies to target Trump campaign adviser George Papadopoulos.
Barr had signaled in May that he was not expecting former President Barrack Obama and former Vice President Joe Biden to face criminal indictments as a result of Durhams investigation, saying "I dont expect Mr. Durhams work will lead to a criminal investigation of either man. Our concern over potential criminality is focused on others."
He told Hannity on Thursday that "if people crossed the line, if people involved in that activity violated criminal law, they will be charged" if the Department of Justice feels that it can prove a crime beyond a reasonable doubt.
White House chief of staff Mark Meadows Read More From Source