Politics
Trump Issues Warning to De Blasio After Weekend of Gun Violence in New York
President Donald Trump on Aug. 16 issued a warning to New York City Mayor Bill de Blasio following a wave of gun violence in the city over the weekend that left at least seven people dead.
The president appeared to suggest that unless the mayors office is able to tackle the recent surge in violent crime in the city, the federal government would step in.
"Law and Order. If @NYCMayor cant do it, we will!" Trump wrote.
Law and Order. If @NYCMayor cant do it, we will! https://t.co/N88GX9Rkc9

— Donald J. Trump (@realDonaldTrump) August 17, 2020
It came as at least 52 people were shot in the nations most populous metropolis in the space of 72 hours since Aug. 13, according to ABC 7. The city has seen a spike in violent crime in recent months.
According to figures from the New York Police Department, shootings in the city logged a staggering 220 percent increase in the week ending July 19 compared to the same week a year ago, while monthly shootings have surged by 194 percent compared to the same 28-day period in 2019.
According to a report by the New York Police Departments CompStat Unit (pdf), which covers the week of July 13–19 and provides percentage change statistics across a range of time frames, both the number of shooting incidents and the number of shooting victims have spiked.
The most pronounced surge is visible in the week-to-date figures for the week ending July 19, with 77 shooting victims and 64 shooting incidents this year, compared to 25 shooting victims and 20 shooting incidents last year. Thats a 208 percent increase in shooting incidents and a 220 percent increase in victims, relative to the comparable week in 2019.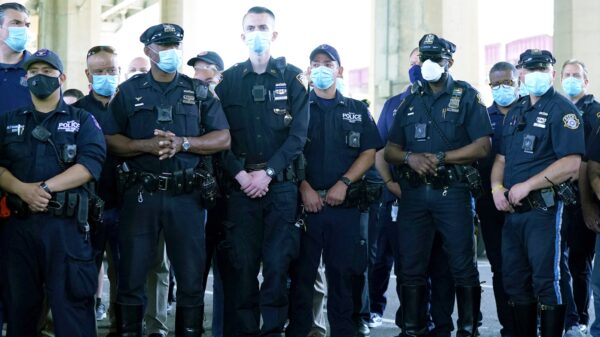 On the morning of Aug. 15 in Queens, a gunman killed off-duty corrections officer John Jeff with his own department-issued service weapon as he was walking with a colleague. He later died in the hospital with gunshot wounds to the head and chest. Police are still searching for the suspect.
In Brooklyn, a 47-year-old died in Prospect Lefferts on Parkside Avenue and Ocean Avenue on Aug. 15. The victim was discovered with two gunshot wounds to the head and was pronounced dead at the scene.
The NYPD has repeatedly complained that last years bail reforms let criminals stay out of jail even after repeated arrests. Another contributing factor to the recent surge in violence could be that as the city was hit hard by the COVID-19 outbreak, many city services were curtailed or shut down, with courts adjudicating only the most pressing cases. Others, such as those involving gun possession, have piled up.
"We have over 1,000 people that have been indicted on a gun possession charge, where the cases are open, and they are walking around the streets of New York today," Michael LiPetri, NYPD chief of crime control strategies, told the NY Post in June.