Politics
Bannon Says Charges Against Him Are a Political Hit Job, Wont Back Down
Former White House chief strategist and ex-Breitbart editor-in-chief Stephen Bannon on Friday said his arrest was a "political hit job" after pleading not guilty to fraud charges relating to fundraising for a private border wall initiative.
"Im not going to back down. This is a political hit job," Bannon said Friday on his "War Room" podcast, coming a day after he was arrested. "Im in this for the long haul. Im in this for the fight. Im going to continue to fight," added Bannon, who was released on bail Thursday after he entered a not guilty plea.
Bannon said that his arrest was an attempt to create fear in people who support President Donald Trumps efforts to build a U.S.-Mexico border wall.
"Everybody knows I love a fight, and I was called honey badger for many years. You know, the honey badger doesnt give a … So Im in this for the long haul. Im in this for the fight. Im going to continue to fight," Bannon said in the podcast, adding that the charges are designed "to intimidate people that have President Trumps back on building the wall."
Bannon was also the head of Trumps presidential campaign before he served as his chief strategist at the White House. Bannon ultimately left in 2017.
The 66-year-old added: "The wall has to be built. This political hit job is to try to stop and intimidate people about not just building the wall, but what sovereignty means."
The Department of Justice (DOJ) has alleged that Bannon, Brian Kolfage, and two others were accused of funneling hundreds of thousands of dollars from the "We Build the Wall" campaign.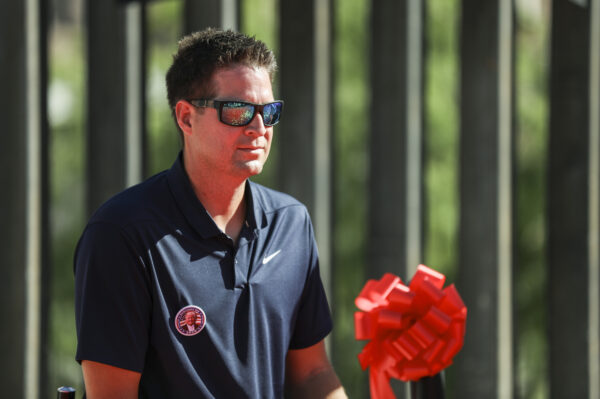 "As alleged, the defendants defrauded hundreds of thousands of donors, capitalizing on their interest in funding a border wall to raise millions of dollars, under the false pretense that all of that money would be spent on construction," Audrey Strauss, acting U.S. attorney for the Southern District of New York, said in a statement released by the DOJ.
The alleged scheme, according to the DOJ, provided Kolfage with hundreds of thousands of dollars to "fund his lavish lifestyle." Other investigators said that they engaged in fraud by allegedly telling donors that they misrepresented the use of their funds.
In December 2018, Kolfage and others created an online crowdfunding campaign via GoFundMe called "We Build the Wall" that raised more than $25 million to build a wall along the border.
The four were charged with one count of conspiracy to commit wire fraud and one count of conspiracy to commit money laundering. The charges carry a maximum penalty of 20 years in prison.