Politics
Melania Trump Would Be Against QAnon If Its Harmful to Children, Spokeswoman Says
First Lady Melania Trumps chief of staff Stephanie Grisham on Tuesday said she hadnt discussed the QAnon movement with the first lady, but she said that Trump opposes anything that would be harmful to children.
"I havent talked to her about that specifically, but I think theres constantly this misperception that its about online bullying, which of course gets tied to the president," Grisham said in a televised interview. "Its about online safety, and its about teaching children that there are predators out there online and that they need to really watch out who theyre talking to online and what theyre doing," Grisham added, saying that Internet safety is a critical component for children now.
Grisham asked if the first lady disavowed the QAnon theory.
"I would never say what I think she should or shouldnt do," Grisham said. "But I think it would be safe to say if theres anything that would be harmful to children online, shes going to be against that."
In recent days, President Donald Trump and other GOP officials have been pressed by media outlets to speak about QAnon, a theory that alleges Trump is working to expose and arrest a cabal of elites who run governments and institutions who are engaging in child trafficking.
Twitter and Facebook, in recent months, have moved to ban accounts and groups associated with the movement.
On Tuesday, Rep. Tom Malinowski (D-N.J.) introduced a resolution in the House "condemning QAnon."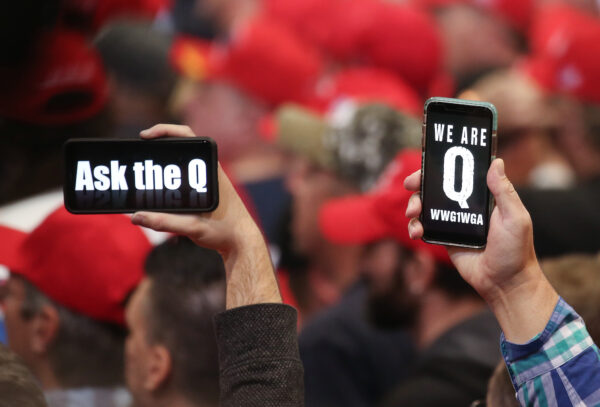 "Our aim is a fully bipartisan Congressional repudiation of this dangerous, anti-Semitic, conspiracy-mongering cult that the FBI says is radicalizing Americans to violence," he _

_ <img src=" rel="noreferrer noopener" target="_blank">