Politics
Four On-The-Record Sources Rebut Anonymously-Sourced Trump Military Story
Four people forcefully rebutted a story that relied entirely on anonymous sources to claim that President Donald Trump decided not to visit a military cemetery in France in 2018 because he feared his hair would become disheveled.
The story, from The Atlantic, also claimed that Trump in conversations described not believing it was important to honor Americans killed in war.
Sarah Huckabee Saunders, the former White House press secretary, said in a statement that the story "is total BS," or nonsense.
"I was actually there and one of the people part of the discussion—this never happened. I have sat in the room when our President called family members after their sons were killed in action and it was heart-wrenching," she wrote.
"These were some of the moments I witnessed the President show his heart and demonstrate how much he respects the selfless and courageous men and women of our military. I am disgusted by this false attack."
Hogan Gidley, a former White House aide who now serves as the Trump campaigns national press secretary, said the story was full of "disgusting, grotesque, reprehensible lies."
"I was there in Paris and the President never said those things," Gidley wrote in a statement, describing the anonymous sources as people who "do not have the courage or decency to put their names to these false accusations because they know how completely ludicrous they are."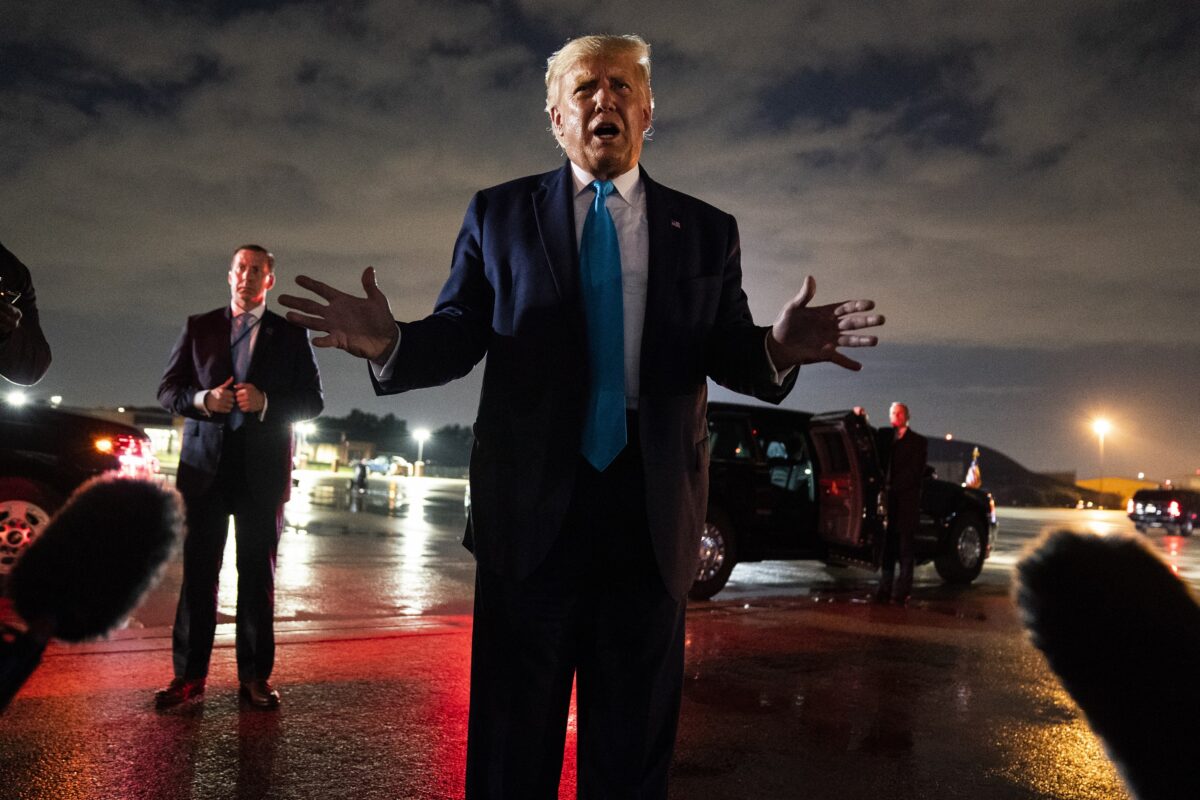 White House aide Dan Scavino, who was also on the trip, said the story contained "complete lies."
"A disgraceful attempt to smear POTUS, 60 days before the Presidential Election! Disgusting!!" he wrote in a tweet.
Stephen Miller, senior advisor to Trump, who was part of the trip, told the Washington Examiner that the story wasnt true.
"The president deeply wanted to attend the memorial event in question and was deeply displeased by the bad weather call. The next day, he spoke at Suresnes American Cemetery in the pouring rain and refused an umbrella," he said. "No one has a bigger, more loving, or more loyal heart for American veterans and fallen heroes than our president."
White House communications director Alyssa Farah said in a statement that the piece is "offensive and patently false."
Trump told reporters in Maryland late Thursday that the story was "fake news."
Trump said he was ready to go to the ceremony by motorcade because of the inclement weather but the Secret Service blocked the trip, citing operational difficulties.
"They said, You cant do it. So I said, I want to do it. They said, You cant. There was no way I would have been able to do it. And they would never have been able to get the police and everybody else in line to have a president, go through a very crowded, very congested area," Trump said.
"So I went and I called home, I spoke to my wife, I said, I hate this, I came here to go to that ceremony. And for the one that was the following day, which I did go to. I said, I feel terrible, and that was the end of it. Now all of a sudden somebody makes up this horrible story that I didnt want to go, and then they make up an even worse story, an even worse story, calling certain names to our fallen heroes. Its a disgrace that a magazine is able to write it."
At the time the visit was scuttled to the Aisne-Marne American Cemetery, Trump on social media blamed bad weather.
"By the way, when the helicopter couldnt fly to the first cemetery in France because of almost zero visibility, I suggested driving. Secret Service said NO, too far from airport & big Paris shutdown. Speech next day at American Cemetery in pouring rain! Little reported-Fake News!" he wrote.