Politics
Trump Calls on Biden, Harris to Apologize for Their Anti-Vaccine Rhetoric
President Donald Trump demanded on Monday that former Vice President Joe Biden and Sen. Kamala Harris (D-Calif.) apologize for what he called "their reckless anti-vaccine rhetoric," the latest in an escalating war of words over a COVID-19 vaccine which has the possibility of being approved before or after Election Day.
The president made the demand during the opening portion of his Labor Day speech delivered at the White House. He was apparently responding to remarks by Harris aired on CNN the day before in which the Democratic vice presidential nominee suggested that she would not trust any vaccine developed under the Trump administration.
"Biden and his very liberal running mate—the most liberal person in Congress by the way, whos not a competent person in my opinion, would destroy this country and would destroy this economy—should immediately apologize for their reckless anti-vaccine rhetoric that they are talking right now, talking about endangering lives," Trump said.
"Its political rhetoric," the president added. "Thats all it is, just for politics."
In an interview aired on Sept. 6 on CNN, Harris said she would not Trust anything Trump says and would only trust the scientists, who, she predicted, would be suppressed.
Related Coverage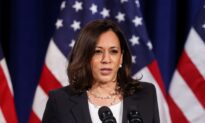 Harris Says She Wont Trust Trumps Word on Any Vaccine Released Before Election
"If past is prologue, that they will not, that will be muzzled, they will be suppressed, they will be sidelined, because hes looking at an election coming up in less than 60 days, and hes grasping for whatever he can get to pretend that he has been a leader on this issue, when he has not," Harris said.
Biden has long insinuated that a vaccine developed by the Trump administration may be compromised by political pressure. When the National Institutes of Health (NIH) announced on July 27 that Modernas vaccine was the first to enter the third phase of clinical trials, Biden demanded that Trump assure the America people that "the White House will respect the independent authority of the Food and Drug Administration (FDA) to decide, free from political pressure, if the vaccine is safe and effective."
Read MoreFDA Commissioner: COVID-19 Vaccines Could Be Authorized Before Phase 3 Trials Completed
Modernas vaccine could begin to be shipped as early as 2021, with the capacity of delivering up to one billion doses a year. The Trump administration reached a deal in July to secure 100 million doses of the vaccine ahead of the trials completion.
The administration has locked in similar deals with the makers of other promising vaccine candidates as part of Operation Warp Speed, which aims to deliver 300 million doses of the COVID-19 vaccines by January 2021.
An approval of a COVID-19 vaccine ahead of the presidential election on Nov. 3 would be a boon for Trump while boosting markets and reviving the morale of a nation, which has been—outside of China—hardest-hit by the Chinese Communist Party (CCP) virus, commonly known as the coronavirus, according to available data.
The Biden campaign has repeatedly suggested that a vaccine developed under Trump may be unsafe. When the New York Times published an anonymously sourced story about potential political pressure surrounding Operation Warp Speed, Biden cited the article in a statement questioning the safety of the vaccine.
"A vaccine compromised by political influence would create health and safety risks, and could further shake the American peoples already weakened trust in our governments ability to combat this pandemic," Biden said in a statement on Aug. 3.
Biden doubled down on his comments a month later, insinuating that a vacciRead More From Source